Welcome to the Argonaut Project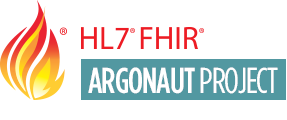 About the Argonaut Project
The Argonaut Project is a private sector initiative to advance industry adoption of modern, open interoperability standards. The Argonaut Project launched in 2014 to rapidly develop a first-generation FHIR-based API and Core Data Services specification to enable expanded information sharing for electronic health records and other health information technology based on Internet standards and architectural patterns and styles.
The Argonauts published the FHIR DSTU2 Data Query Implementation Guide in 2016, and promoted support for SMART on FHIR, which laid the foundation for deploying FHIR-based API in the healthcare industry.
This original effort drew on recommendations from the Joint HIT Standards and Policy Committee's JASON Task Force Report, the HIT Standards Committee's NwHIN Power Team, the MITRE JASON Reports of 2013 and 2014, and the 2010 PCAST Report.
Since 2016 the Argonauts have continued to advance artifacts foundational to healthcare exchange: CDS Hooks, Bulk Data, Subscriptions, Clinical Notes, and US Core which provides formal FHIR guidance for ONC's US Core Data for Interoperability (USCDI).
Community
The Argonaut Project is an implementation community comprising leading technology vendors and provider organizations stakeholders. The current list of Steering Committee members is available on the Argonaut Project Sponsors page. Participation in the Argonaut initiatives is open to all HL7 members.       
Argonaut Project Overview Presentation
Discussion Groups
Argonaut Project points of contact